Let's Explore The Best Entertainment Spots In Varna, Bulgaria!
For some people, vacation usually means lounging on a beach with a cocktail in hand and not a care in the world. Those more keen on exploring will dive into the cultural side of a place and go through the best attractions and museums as a means of getting to know the city better. While all of the above are great for relaxing, recharging our batteries and enriching our cultural view of the world, it's also good to make time for some good ol' fun! This is exactly why we've handpicked some of the best venues for fun in Varna where you can go and enjoy yourself to the fullest. Here's how to spend a super fun day with Varna City Card!
Morning: Varna Zoo & Amusement Park
Quick breakfast stop…
The Social Teahouse is a great spot in the centre of town where you can enjoy a nice, filling breakfast before getting on with your day! The venue is incredibly stylish and offers over 30 types of teas as well as great quality coffee! Go for one of their wrap sandwiches, freshly baked croissants and muffins, or maybe their signature cheesecake with tea coating, it's simply delicious! The best part about it all?
With Varna City Card you will get either a free coffee or tea of your choice so you can begin your day just as you like it!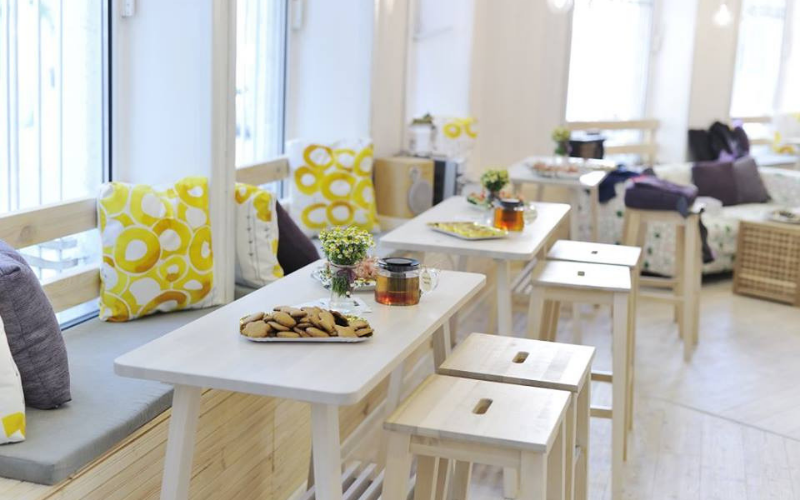 Here's how to get there from the Tourist Information Centre >
Varna Zoo
A visit to Varna Zoo is generally great fun for both children and adults. It's one of the best family-friendly activities that you can enjoy while in Varna and a great way for children to get close to animals while learning all about them! Varna Zoo is located inside the beautiful Sea Garden right next to the Dolphinarium and the Natural History Museum. The zoo itself has been around for almost 60 years, the facilities inside are modern and the animals well cared for.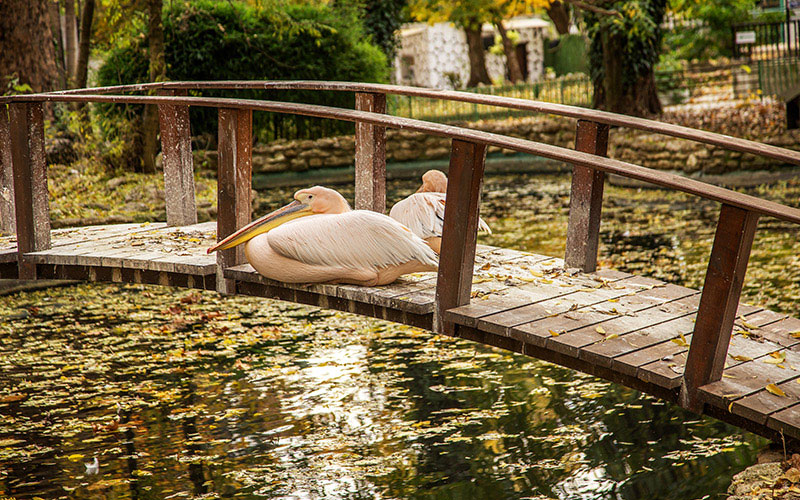 Amongst the zoo's most interesting residents you'll find the incredible black swans, which are the one-of-their kind in the country. Others include an ostrich, panther, llamas, camels, the pink pelican, a white peacock, and everyone's favourite – the magnificent lions and a tiger. There are over 17 protected kinds of birds and animals living in the zoo that are included in the Red Book of Bulgaria. The zoo also features a total of 3 cascade lakes where you can observe the natural behaviour of many species of water birds.
Varna City Card gives you free admission the Varna Zoo!
Here's how to get there from the Tourist Information Centre >
Amusement Park Sea Garden
The Amusement Park inside the Sea Garden is another great place to stop by and have fun with the whole family! The park features many fun attractions for children of all age groups as well as some activities suitable for adults. Some of the park's highlights include a pirate train, carousel, shooting range, the teacup ride, bumper cars (everyone's favourite), and the amazing Ferris wheel!
If you've skipped breakfast, you can enjoy a delicious meal or a treat at the Pizza Bar, the Serial Monster Cosmic Breakfast, the Ice Cream House or the Donut House!
Varna City Card gives you 15% off a pizza order at the Pizza Bar, as well as free entry to an attraction of your choice at the Amusement Park Sea Garden. 
Here's how to get there from the Tourist Information Centre >
Other attractions in the area…
If you find yourself with some time to spare before lunch, why not explore some other nearby attractions in the Sea Garden? The Naval Museum is a great place to visit and learn all about the history of the Bulgarian Navy as well as the commercial fleet. You can see some incredible exhibitions of naval equipment, weapons as well as original ships and boats. Free entry with Varna City Card!
Noon: Escape House, Wake Park & Varna Karting Track
Escape House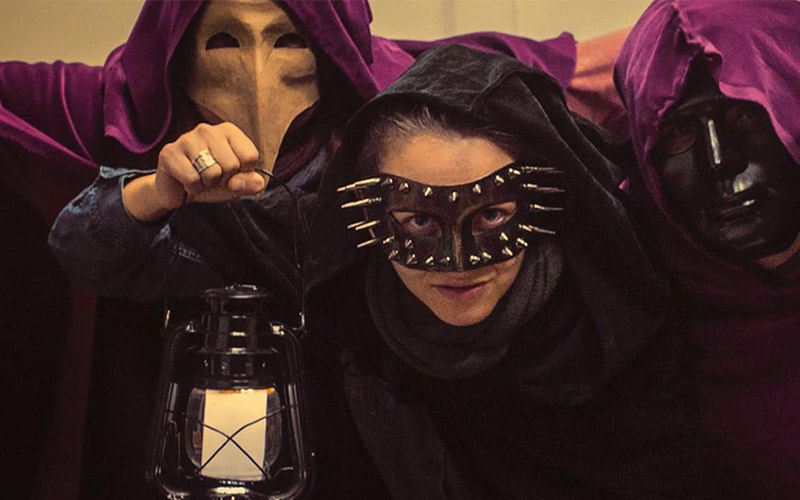 If you're looking for something truly entertaining visit Escape House in the centre of town. The venue offers one of the best Escape Room experiences in Varna where you and your family or friends can enjoy an hour of solving very fun puzzles!
"The Masquerade of Surprises" is a real-time quest game that will challenge you to solve some very unique riddles. You'll be surprised by the amazing details that make up this mystic game. You and your team will be locked in a mysterious room full of secrets and in order to get out and finish the game you will have to stand up to the challenge of completing each set of original puzzles.
With Varna City Card you can enjoy 25% off at Escape Room!
Here's how to get there from the Tourist Information Centre >
Wake Park Varna
Fans of water sports will certainly enjoy spending some time at Wake Park Varna. The venue is the only cable wakeboarding park currently available in Varna and a great way to have some fun during the summer months. It's open from May up until October so you can pop in and learn how to wakeboard. The park's qualified instructors have a 100% success rate with beginners so you'll be up on a board in no time! If you're already a pro you can skip the training and get down to enjoying this amazing sport which is often referred to as the coolest substitute for water skiing.
Here's how to get there from the Tourist Information Centre >
Varna Karting Track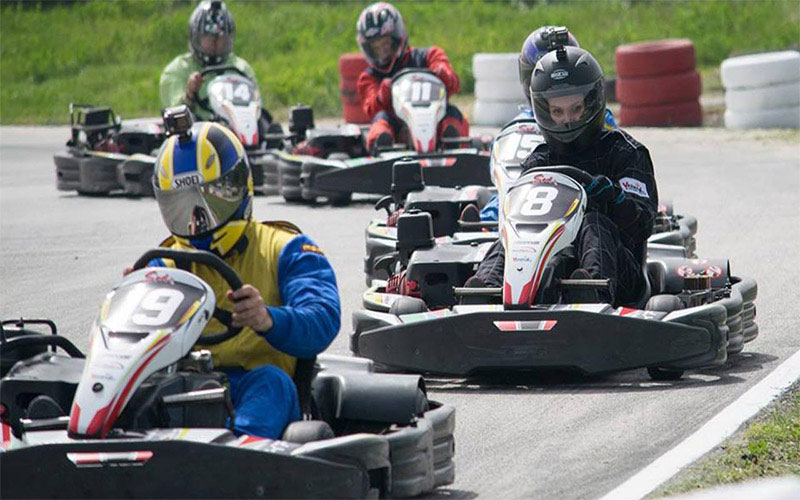 Looking to make your stay in Varna even more exciting? Varna Karting Track is the perfect place to visit if you're looking for a healthy dose of adrenaline! The venue happens to be the largest karting track in all of Bulgaria and it offers visitors the chance to enjoy a series of activities including karting racing, buggy rides and even paintball that you can play along with family and friends.
The karting track comes at the impressive length of 1050 meters so you can enjoy as many laps as you want! There are faster carts available for the more experienced drivers, as well as double carts for parents with children.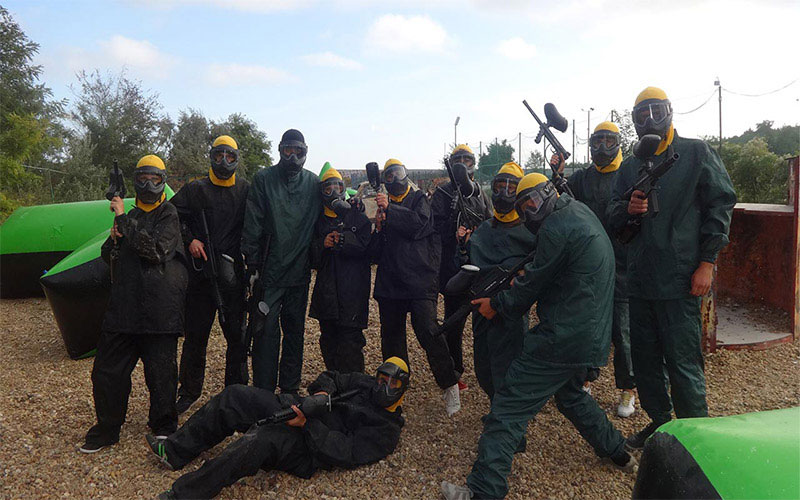 If you'd rather give the off-Road Buggies a go, try the Razor 250 as it will give you a unique experience full of adventure. The racing track comes with varying degrees of difficulty so you decide just how far you want to go! The fun continues at the paintball field where you can enjoy a game along with your family or friends. Don't forget that team effort and concentration is key here!
With Varna City Card you can choose from a total of 3 different deals here: you can go for 10% off karting & paintball, 10% off 30 minutes of karting at the track and even better, why not take advantage of it all with a 10% off a full action day at Varna Karting Track!
Here's how to get there from the Tourist Information Centre >
Some suggestions for lunch…
Pizza-Bar La Casa al Mare is an ideal place to stop by for a quick lunch in the centre of town. There you can enjoy authentic Italian pizza as well as a rich variety of dishes prepared with the finest ingredients possible! The menu offers many fresh salads (try the Al Mare if you're a seafood fan), amazing bruschettas as well as tasty pasta and risotto dishes. Tip: try the spaghetti Carbonara – it's everyone's favourite!
Afternoon: Retro Museum & Playground Grand Mall Varna
Spending an afternoon at the Mall is never a bad idea! Grand Mall Varna is one of the largest and most modern shopping centres in all of Bulgaria. Not only will you find countless shops with many well-known international brands, but you can also enjoy the food court, restaurants, cafes, a large and modern children's centre and there's even a museum that you can visit there!
Retro Museum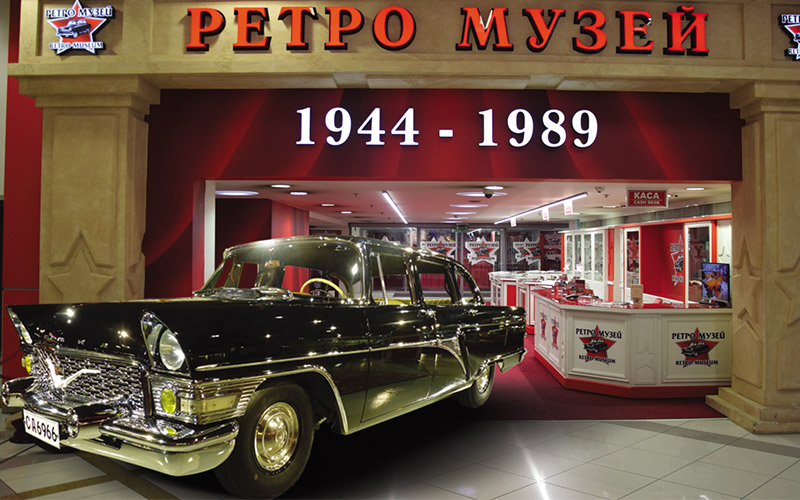 The Retro Museum is certainly not your typical museum. There you can travel back in time and see what Bulgaria looked like during the Socialist era. The rich exhibits are absolutely stunning and feature over 60 retro cars, manufactured between 1944 and 1989, as well as thousands of artefacts from the period!
Varna City Card gives you free admission to the Retro Museum!
Playground, Grand Mall Varna
Playground Grand Mall Varna is certainly every child's biggest dream! The venue features tons of attractions for both children and adults including over 40-arcade games plus 2 billiards, 2 football tables, 1 darts, as well as 5 additional Interactive tables.
The fans of bowling will love the 6 AMF bowling alleys for professional and amateur play. You will also find a laser arena on the principle of Paintball where you can play with up to 20 people for over 20 minutes! Avid gamers will enjoy playing all the latest PS4 games on the 60 inch TVs.
With Varna City Card you will get a second bowling game free if you purchase one!
Both venues are located inside Grand Mall Varna. Here's how to get there from the Tourist Information Centre >
Perhaps you'd rather spend your afternoon differently…
If you feel like going for a drive down the Golden Sands resort you can visit the first and most beautiful water park in Bulgaria – Aquapolis. It's open for visitors from May until the end of September and it's the perfect place to let loose and have some fun with friends and family. The park is built in a unique Mauritanian and Mediterranean architectural style and features attractions such as pools, water slides, Jacuzzi, fountains and waterfalls, ancient towers and some ruins.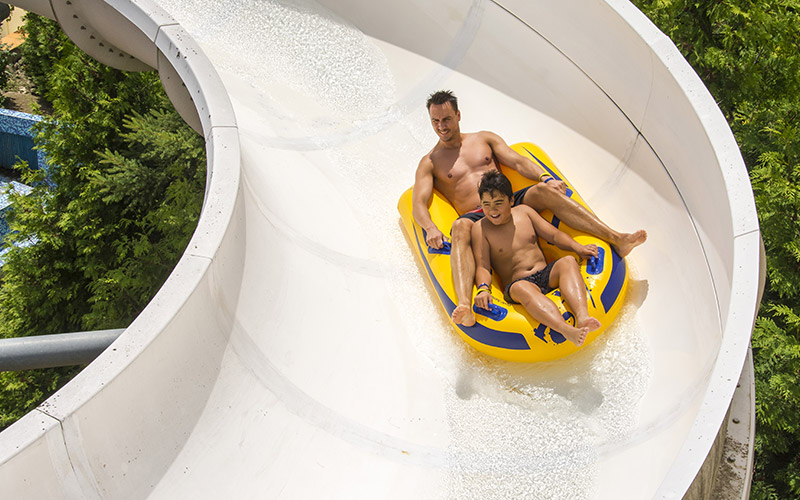 Here's how to get there from the Tourist Information Centre >
Evening: Pinta Varna Ship, Pampero Bar
Pinta Varna Ship
From May 1st until October 30th you can enjoy sailing cruises with Pinta Varna Ship. The beautiful 3-wheeled ship was built in 2006 and it's actually a modern replica of PINTA carriage, on which Christopher Columbus was sailing when he discovered America in 1492. The cruises go north towards Euxinograd Palace and south to the Kamchia River.
Pinta Varna offers two types of cruises. The Sunset Cruise starts at 19:00 and is very romantic. You and your loved one can enjoy over 90 minutes of cruising through the bay of Varna, watching the sea with a glass of wine or champagne!
Pinta Varna also offers a Pirate Party which is super entertaining! The programme features a pirate masquerade dress up, a fun battle between 2 ships with water cannons, as well as animations that make the experience even more unforgettable. This option is only available throughout the day and with reservation!
With Varna City Card you get 25% off a Sunset Cruise at Pinta Varna and 45% off a Pirate Party!
Here's how to get there from the Tourist Information Centre >
Pampero Bar
Pampero Bar is a great spot in the centre of town where you can enjoy a drink, some music and a light meal. The venue is very modern and features 3 floors and a stunning summer garden where you drink a cocktail or coffee in a cosy setting during the warmer months. The food options include sandwiches, pizzas, pasta, breakfast specials and other non-alcoholic beverages.
Varna City Card gives you 10% off the menu at Pampero Bar!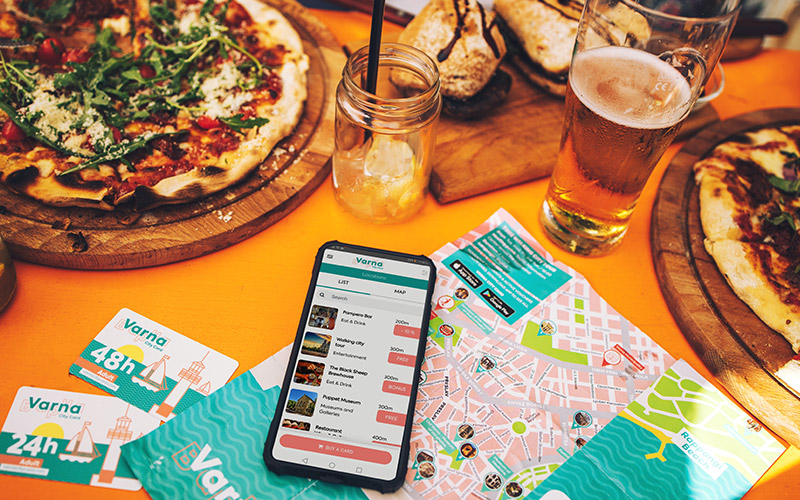 Here's how to get there from the Tourist Information Centre >
Varna's certainly a city that's more than capable of capturing you with its charm, as well as keeping you entertained for days! Next time you're visiting the Sea Capital, why not explore it with City Card and see for yourself just how much fun you can have!