Best Burger Spots In Varna, Bulgaria
Varna's culinary scene is growing fast and is just as colourful and unique as the town's culture and its people. There are more than enough places around the Sea Capital where you can go and enjoy a delicious meal, whether it's a traditional classic, a new and inventive gourmet dish, or even a local seafood speciality. If street food (or fast food) is more your thing, you'd be surprised to find there are quite a few places around that make super delicious (as well as creative) burgers. So where do you go if you want to taste some good burgers in Varna? We've handpicked some of the best burger joints that you visit in the Sea Capital, should you happen to crave one!
1/ Old Buddies Burger Bar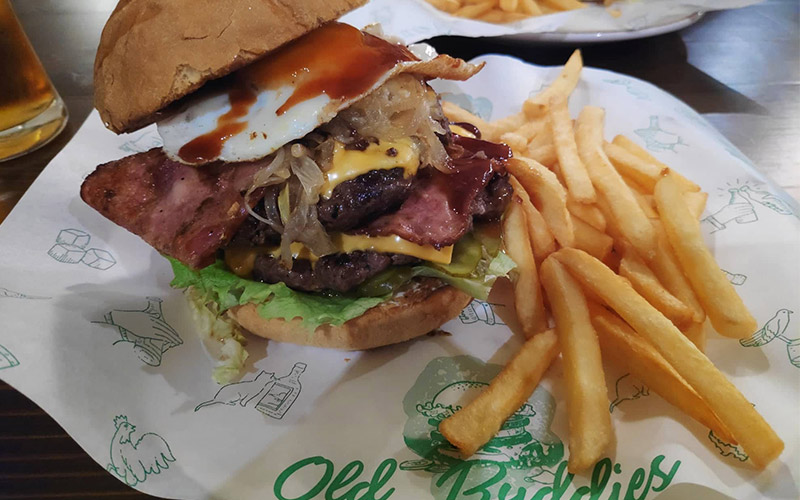 The Old Buddies Burger Bar is one of the local's favourite burger joints in Varna. The food is absolutely delicious and the menu offers a wide range of classic as well as unique burgers with different types of meats, including fish and 3 types of veggie burgers. The portion sizes are quite generous, at an affordable price that won't put a dent in your wallet! The place is pretty small, though – so make sure you book in advance.
What to try here
Try their famous Peanut Burger, locals and tourists simply can't get enough of it. It's made with delicious ground beef, peanut butter, mayonnaise, honey, caramelized onion, iceberg and ginger sauce. The bar also offers a good selection of beers including several from local microbreweries.
Here's how to get there from the Tourist Information Centre >
2/ The Key Beer Bar

26 tap beers, over a hundred bottled beers and everything you need to enjoy them! Burgers included, of course. The Key Beer Bar is a cosy pub near the Cathedral where you can meet with friends over a pint of "whatever-the-bartender-recommends". They know their beer, so just trust them! 
What to try here
Not many places offer a veggie burger, but The Key is one of them. Bread with sesame, crunchy pickles, tomato, lens rissole, fresh salad and tartar sauce, accompanied by crunchy chips – you won't miss the meat!
Tip: With Varna City Card you'll get a free beer when you order a burger at The Key Beer Bar!
Here's how to get there from the Tourist Information Centre >
3/ Burgero
Burgero is yet another local's favourite spot where you can enjoy delicious craft burgers made with fresh and tasty ingredients. The burgers are very large and there are quite a lot of variations on the menu. When making an order you'll receive a pager that lets you know when your order is ready so you never have to wait in line.
What to try here
Go for the oak-smoked DIM Burger – it's made with a delicious buttery brioche, ground beef, pickles, bacon, tomato, sweet-spicy red beans, cheddar, horseradish and topped with their signature sauce. We think it's safe to say that after eating this burger you won't be feeling hungry for quite a while! You'll also get a bonus of freshly cooked fries with every burger you purchase.
Here's how to get there from the Tourist Information Centre >
4/ Sweet & Salty
Sweet & Salty is a cosy restaurant where you can enjoy delicious, quality food, drinks, cocktails as well as coffee and desserts. It's located in one of the most popular areas of Varna, near the University of Economics and the Sports Hall. Although this is not exclusively a burger joint, they are known to make some pretty good ones. The restaurant uses fresh seasonal products when making their burgers and the fries are homemade, literally cooked to perfection.
What to try here
Their classical burger consists of high-quality Black Angus beef, cheddar, fresh tomatoes and lettuce as well as their ''secret'' signature sauce with onion.
Here's how to get there from the Tourist Information Centre >
5/ Black Sheep Brewhouse
The Black Sheep Brewhouse is a favourite place in town. If you're a sports fan, you'll certainly feel at home here – you can watch major sports events on large TV screens. Their burgers are a true chef-d'oeuvre and will keep you occupied for quite some time, too. The variety of classical and unorthodox tastes is something to write home about!
What to try here
The beef burger with goat cheese and blueberry sauce will challenge your understanding of the word burger!
Tip: With Varna City Card, you will get a free beer when you order a burger at The Black Sheep Brewhouse!
Here's how to get there from the Tourist Information Centre >
6/ Corner Burgers & More
The tiny underground tavern serves up some seriously delicious pub-style food. This, of course, includes burgers and by that, we mean large, spicy and juicy burgers served with homemade fries. You can also enjoy a large variety of beers both from local breweries as well as popular international brands, on the tap. Corner burgers & more is the perfect place to spend an evening with friends.
What to try here
Go for their famous CORNER burger. It's made with a juicy beef patty, cheddar, caramelized onions, mushrooms, tomato, egg (with a liquid centre) as well as iceberg and their signature sauce. Want to try something really interesting? Get the cheeseburger soup or the unique GODFATHER burger, certainly the restaurant's most challenging meal!
Here's how to get there from the Tourist Information Centre >
7/ Restaurant Vege Joy
Prefer a meat-free burger instead? Vege Joy is a cosy restaurant near the centre in Varna that specializes in creating all kinds of vegetarian meals. They are well known across town particularly for the good quality ingredients they use, big variety of dishes, drinks as well as the general pleasant atmosphere.
What to try here
Have a go at their vegan burger made with a lentil and pea patty. It's amazingly delicious and also very affordable (2.50 euros). The restaurant also offers a lunch menu with many other cheap vegetarian dishes. Pop in at lunch to find out for yourself!
Here's how to get there from the Tourist Information Centre >
With so many burger places in Varna we doubt you'll ever have to look far should you get a sudden craving for some fast food. And with your trusted Varna City Card at hand, you are in for a treat wherever you go!