Best Shopping Locations In Varna
Everybody knows that shopping while on vacation is an even more enjoyable experience. You not only get to indulge in this so-called 'therapeutic" activity but in most cases, you don't have to rush! It's a great way to get to know the local culture as well. Besides shopping malls, Bulgaria offers its visitors a wide range of traditional souvenirs, art and antiques that present its rich cultural heritage in the most memorable way. The Sea Capital has a high concentration of great shopping spots. If you're wondering where you can do the best shopping in Varna, find out with us below!
Grand Mall Varna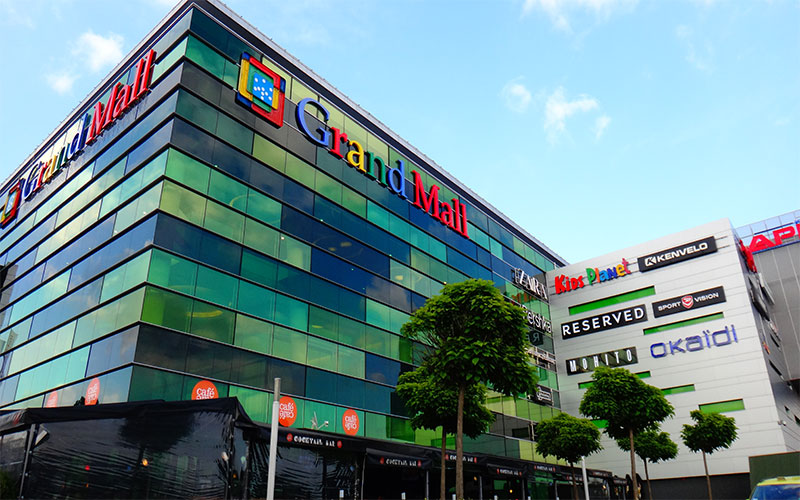 Grand Mall Varna is the biggest trade centre in the city and a great place to spend an afternoon with your family or by yourself. This modern and well-designed mall has a lot of different shops, ATM's, a food court and plenty of parking space. It's conveniently located next to the main bus terminal which is only a 1min walk away.
A wide range of international brands
The high concentration of shops under one roof makeс it convenient for those who might be a little short on time and prefer to get their shopping done in one place. Here you can find well known international clothing brands such as Zara, Bershka, Stradivarius, Pull and Bear, H&M, Nike, Adidas, Reebok, Replay and Guess.
There's also an Apple store, quite a few Optic shops and if you like some luxury jewellery – a Swarovski store.
IMAX Arena Cinema & Children's facilities
If you're visiting the mall with your family you'll find that you can easily spend a whole day there. Besides the shops, the mall has an IMAX Arena Cinema and there are projections throughout the entire day, suitable for both children and adults. There is also a large playground for children on the mall's premises which offers many types of entertainment facilities.
Food Court
The food court offers some well known international favourites such as McDonald's, Subway and Chicken King. Some locally based options include Massa Kitchen – a modern European restaurant, Le Chef – a great place that serves Italian cuisine and a Godzila restaurant – a local chain offering mixed dishes including some traditional ones.
Retro & Wax Museum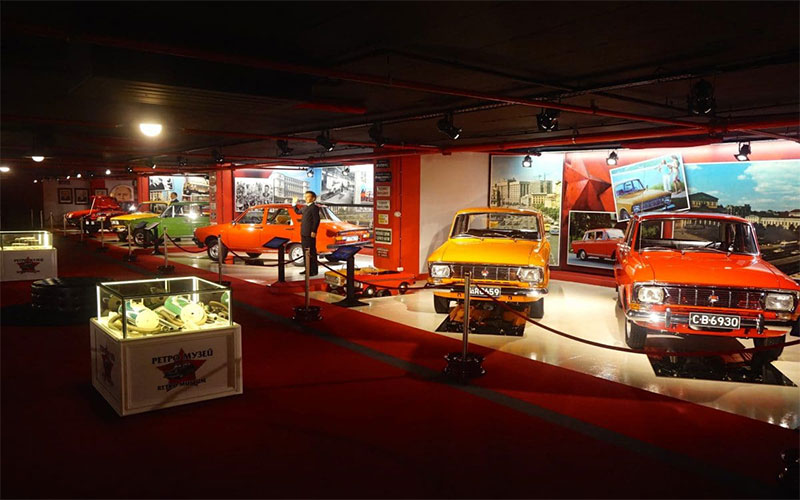 The Retro Museum is located inside the mall and is certainly a unique place to visit. The entire museum is dedicated to the Socialist period from 1945 to 1989 in Bulgaria. If you do make it there, make sure to see the amazing collection of Restored Vintage Cars, the wax figures of famous people from the Socialist era and the interesting collection of Bulgarian cigarettes.
With Varna City Card you get free admission!
Here's how to get there from the Tourist Information Centre >
Mall Varna
Although much smaller in comparison to the Grand Mall, you'd be surprised to know that this was actually the very first mall in the city! Mall Varna boasts with the same kind of shops and because of its proximity to the Grand Mall (10 min walk), it is much quieter and with good underground parking.
There is also a games floor and a food hall where you will find a number of outlets like McDonald's, KFC, Subway and more, all set around a large seating area which is great for big groups. So if prefer something less crowded with more room to breathe as you shop then Varna Mall is just the place for you.
Here's how to get there from the Tourist Information Centre >
Balkanik 51 – Traditional Souvenirs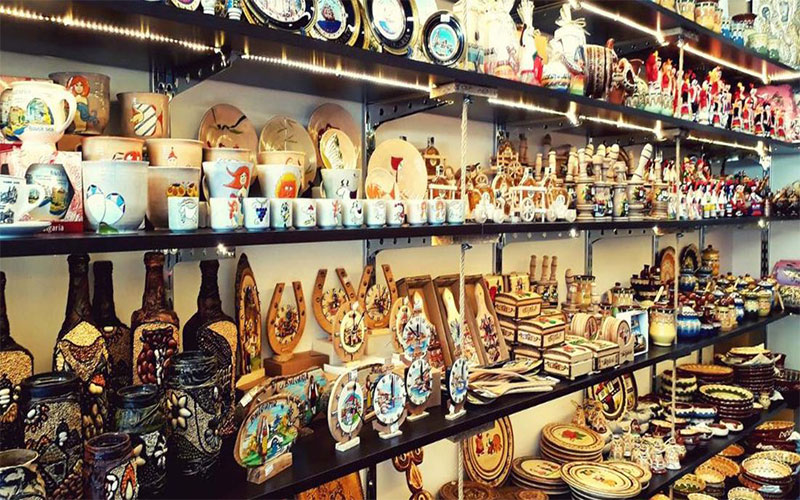 No shopping trip in Varna will be complete without a visit to a traditional souvenir shop. Balkanik 51 is a place for traditional Bulgarian handmade souvenirs. They offer a wide variety of magnets, traditional Bulgarian ceramics, woodwork, household tablecloths, towels and many others.
Here you can also find products made from the famous Bulgarian Rosa Damascena such as rose water and oil, rose jam, tea and even liquor! There's a good selection of traditional local spices and herbs and different types of Turkish delight.
With Varna City Card you get 10% off all souvenirs at Balkanik 51!
Here's how to get there from the Tourist Information Centre >
Averi Beers
The store is considered to be the best beer shop in Varna. There are over 150 types of craft beer from all over the world. The shop features a tiny pub with hundreds of different beer brands from mostly southern and eastern Europe. A must visit place if you are a beer lover! You can buy draught beer in plastic bottles from the local brewery. It costs just 4.50 leva for 1 litre of Ipa or pale ale. Now that's what we call a bargain!
Here's how to get there from the Tourist Information Centre >
Art Gallery Le Papillon
This is one of the best private galleries for buying art in Varna. Carefully curated collections of many well known and prominent artists, make this tiny gallery a favourite place for locals and visitors of the city who often come to see some art and unwind. There you can also see a wide range of quality designer jewellery and ironic ceramics, should you need a gift idea for a friend or a loved one. Come, browse, and talk to the curators, you won't be disappointed!
Here's how to get there from the Tourist Information Centre >
Contemporary Space
This cosy little place is one of the treasures of Varna, where you can go and enjoy (or buy) contemporary art. It's perfect to visit by yourself or with friends. Visitors and locals find it very relaxing and a great place to spend an afternoon. There is a bar where you can get different beverages, a book shop and a cosy lounge area where you sit back and read a book.
Here's how to get there from the Tourist Information Centre >
Retail Park Varna
Perhaps you got inspired by your visit to Varna and now you have some new ideas about redecorating your home? Or maybe you're looking to get the latest tech? Retail Park Varna is the first of its kind in Varna and the Northeastern part of Bulgaria. It has been established as the ultimate shopping destination, featuring some of the most prestigious local and international brands as IKEA, JYSK, Dominico, Martinelli, Zora, Decathlon.
Here's how to get there from the Tourist Information Centre >
Bohotopia
Another must-visit souvenir shop in Varna. This genuine, cosy store offers a very rich selection of gifts and handmade items. You can find many interesting collections of vintage and retro crafted art products from all around the world. Their hand-picked selection includes something for all boho-chic lovers.
Here's how to get there from the Tourist Information Centre >
Shakespeare & Friends Bookshop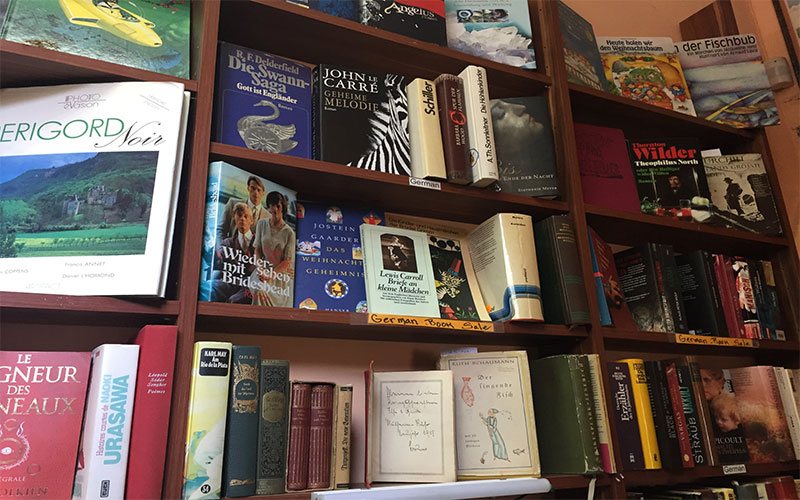 If you're looking to add some new additions to your book collection, you can certainly do that while in the city! Right in the heart of old Varna, this is the kind of shop you expect to find in Paris or Vienna. There is a wide selection of books in English, French, German, Bulgarian, Russian, Spanish and Dutch.
Here's how to get there from the Tourist Information Centre >
As you can see Varna has more than enough options to accommodate the needs of every type of shopper. Whether you prefer the mall or something handmade to remember Varna by, you won't be left disappointed by the great variety of items and gifts you will find.