Eat Like A Local: The Ultimate Varna Food Guide
Bulgaria has long been known across the Balkans for its delicious cuisine. But why does Bulgarian food taste so amazing? Hint: unique recipes passed down from generation to generation for hundreds of years. Varna is a popular seaside resort so you can expect fresh seafood and fish delicacies all year round – as well as modern options and traditional classics. Why not get to know Varna and its culinary side during your next trip? We've gathered some of the best Varna restaurants that are a must visit for any connoisseur of food!
Local Cuisine
Anyone who has had the opportunity to taste traditional Bulgarian cuisine will tell you there's little that can top a salad made of fresh pink tomatoes, cucumbers and homemade sheep's cheese. The same goes for our clay pot classics – there's nothing quite like the intense flavour of slow-cooked meat and seasonal vegetable stew.
Chuchura Restaurant
You can find the Chuchirite restaurant in the centre of Varna and it's the place locals love because of the genuine, traditional food. The whole restaurant creates an atmosphere of past traditions and customs. All the dishes here are prepared, seasoned and cooked according to original recipes. Try one of their meat specialities on a sword, cooked the old fashioned way on charcoal, or one of their dishes made in clay pots (old-time recipes!).
Here's how to get there from the Tourist Information Centre >
Staria Chinar – Port Varna
This is certainly another great place in Varna where you can taste quality regional food. Staria Chinar offers a big menu with a variety of choices at affordable prices. You can enjoy original recipes and some interesting interpretations of traditional Bulgarian dishes. Meat and fish dishes are amongst the best things to try in the restaurant. The local wine will not disappoint either!
Here's how to get there from the Tourist Information Centre >
Seafood Restaurants
By The Sea
Definitely one of the best seafood restaurants in Varna! By The Sea is famous for its rich menu, Mediterranean cuisine and delicious seafood specialities. There is a beautiful panoramic terrace that practically hangs in the sea so you can enjoy the magnificent view of the bay.
You can easily spend an evening there marvelling at the sound of piano music over a glass of fine wine. Try the grilled squid with butter and herbs, their amazing tapas and cheeses or any of the mussel, prawn, octopus or other squid specialities on the menu.
Here's how to get there from the Tourist Information Centre >
Mr Baba
Mr Baba is a 15th-century galleon ship, built in real size. You can find it on the sands of South Beach at the end of the Sea Garden. They offer some of the best fish dishes in town and the atmosphere is well worth a visit.
Try the fresh fried squid with butter and garlic, the grilled octopus with Mediterranean herbs or the stuffed squid. The restaurant also has a master confectioner and a sommelier so expect some exceptional desserts and amazing local wines.
Here's how to get there from the Tourist Information Centre >
Modern restaurants with a bit of everything
Godzila Restaurant
Godzila restaurant has 4 venues in Varna and is often praised by locals and visitors alike for its good quality food, generous portions and reasonable prices. price ratio is good. The seafood dishes are delicious and on their menu, you'll also find many Bulgarian classics such as the Shopska Salad and delicious baked on the spot flatbread with cheese, garlic and butter.
Here's how to get there from the Tourist Information Centre >
Parmy Family Restaurant
Parmy is a family run restaurant with a beautiful garden area that's perfect for a quiet, intimate meal or a special event. The highlight of the place? It's absolutely unbeatable in terms of value for money, quality of food and service. Their menu offers many plates with big portions. Try the calamari with arugula as an appetizer, the seafood risotto, their gourmet pizza or the nougat ice cream with fruit.
Here's how to get there from the Tourist Information Centre >
Fine Dining
Restaurant Wine & Cellar Darzalas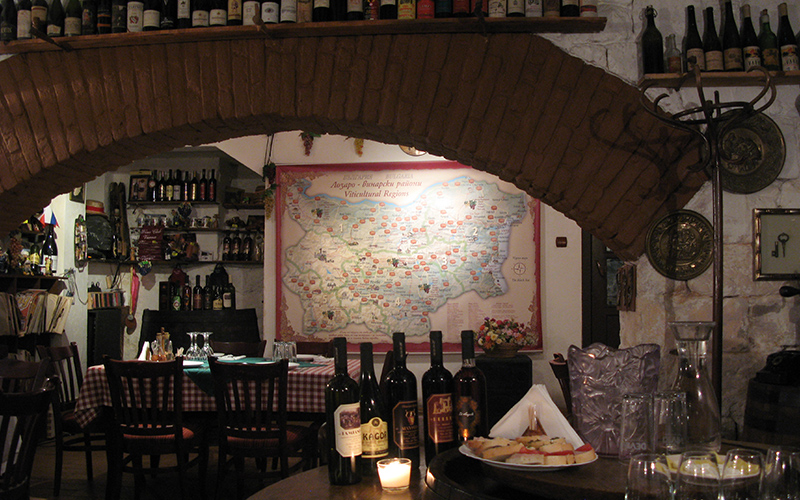 Restaurant Wine & Cellar Darzalas has аn authentic stone cellar with over 500 old and rare local wines, a glass hall and a terrace garden in a comfortable patio. Darzalas offers traditional local cuisine, different appetizers, cheeses, and yoghurt.
Enjoy a wonderful lunch, dinner or some traditional Bulgarian cuisine and wine while you save 15% on your order with Varna City Card.
Here's how to get there from the Tourist Information Centre >
Red Canape
Red Canape offers modern cuisine made by an award-winning chef famous for his creative approach to every dish. Locals and tourists can't get enough of the veil with foie gras & quail egg. Other delicious options are the salmon with black rice, smoked duck breast with risotto or the ribeye t bone steak.
Here's how to get there from the Tourist Information Centre >
Moderately priced restaurants where you can eat on a budget
Pizza Sea Horse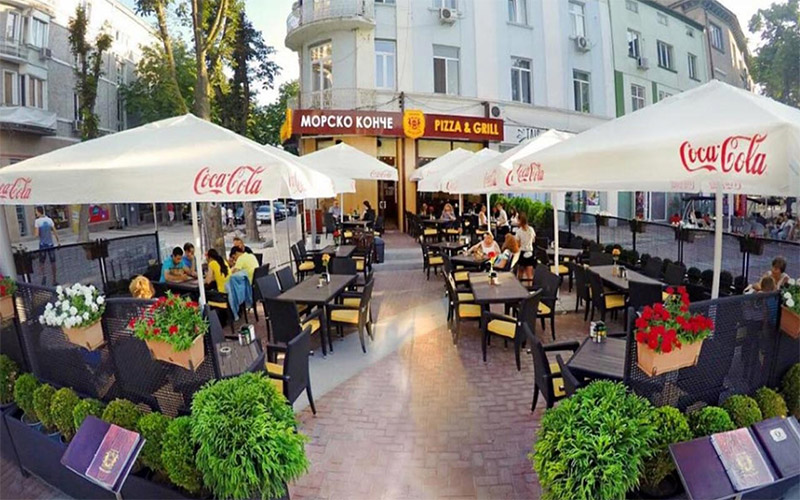 Located in the centre of Varna, right next to the city Opera, Pizza Sea Horse is a wonderful place to grab a bite to eat and relax. For more than 25 years the pizza place prepares a wide variety of pizza, salads, grill, pasta, and deserts. Everything is fresh and yummy!
With Varna City Card you get a free drink with every large pizza you order at Pizza Sea Horse!
Here's how to get there from the Tourist Information Centre >
Pizza – Bar La Casa al Mare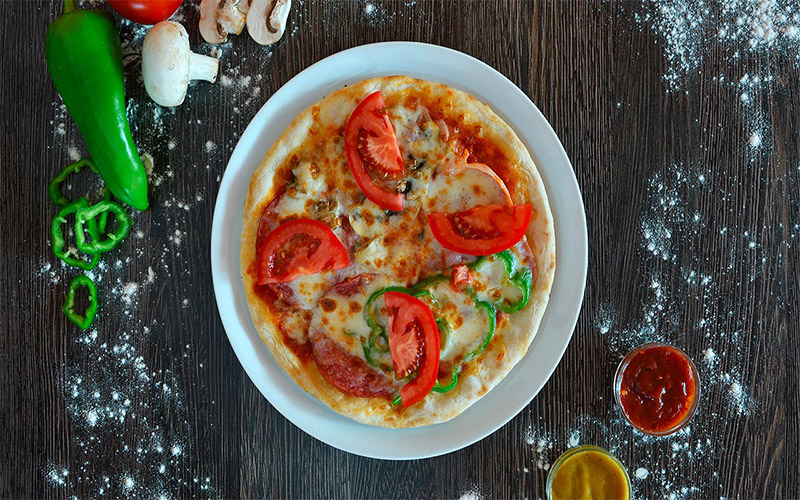 In Pizza – Bar "La Casa al Mare" you can enjoy the classic Italian flavour. The menu includes freshly made salads and pasta, risotto, freshly baked bruschetta and pizzas, fresh fish and seafood, BBQ and traditional Italian desserts.
With Varna City Card you can enjoy a free drink with your order.
Here's how to get there from the Tourist Information Centre >
It's safe to say that our food guide has you covered and maybe even a little spoiled with choice. Bulgarian cuisine is truly one of a kind so if you ever find yourself in Varna make sure to explore as many restaurants as you possibly can!