Traditional Bulgarian Costumes And Embroideries: History And Types
Culture has always played an important role in the history of Bulgaria – costumes, in particular, are an inseparable part of the population's identity. Bulgarians value their traditions highly and folk costumes are still an important part of many communities in different regions of the country. Traditional costumes are often used as formal wear, but more typically nowadays as part of a local event or festival. One thing is for certain, this type of clothing is unique, full of colour, history and many fascinating, yet intricate patterns. Let's take a closer look at some of the country's best known traditional costumes, as well as their history and origin!
Bulgaria's history and many influences have greatly attributed to the rich variety of culture and heritage we see today
Bulgaria is one of the oldest countries in the world, so naturally, it makes sense that a large number of ancient civilizations left their print along the way. Throughout the centuries, the lands of modern Bulgaria have been inhabited by several great civilizations including the Thracians, Ancient Greeks, Romans, Slavs and Bulgars. What's truly fascinating about this is that due to the great variety of influences the country has adopted many unique and some would even say unusual traditions. Nonetheless, Bulgaria's rich history and cultural heritage continue to fascinate people from all around the world.
Traditional Bulgarian Costumes as part of the nation's identity
Bulgarians tend to wear traditional costumes for a number of festivals, as part of their folk dance culture, or as seen through various periods in history. A folk costume (also referred to as regional costume, national costume, or traditional garment – 'nosiya' in Bulgarian) expresses the identity of a specific population and their traditions through costume. This type of clothing is usually hand-made from local materials and consists of several colours (some are very bright and playful). Other characteristics include intricate patterns, beautiful embroideries and hand-sewn elements, called 'shevitsi'. Traditional costumes were also used as an important indicator for one's social, marital or religious status.
Ethnic Costumes
These types of costumes represent the culture or identity of a specific ethnic group and are usually associated with a particular geographic area in the country. Folk costumes were worn for centuries in many villages and regions in the country up until the beginning of the 20th century. The costumes and garments were typically handmade and the process of creating them is a skilful craft that's been taught and passed on through every generation and century. The traditional materials used for making the clothing include linen, hemp, wool, silk, and cotton.
Embroidery is a big part of creating a costume and something that's been taught to women from a very young age. Having the ability to create clothing, spin wheels, sew, and weave was the highest skill of all domestic crafts in Bulgaria. The symbolism of embroidery revolves around the local belief that certain types of patterns protect the human body from evil spells and spirits. Traditional ethnic wear and garments often come in two forms: one for everyday occasions, the other for traditional festivals and formal wear (with more intricate decoration).
Motifs and ornaments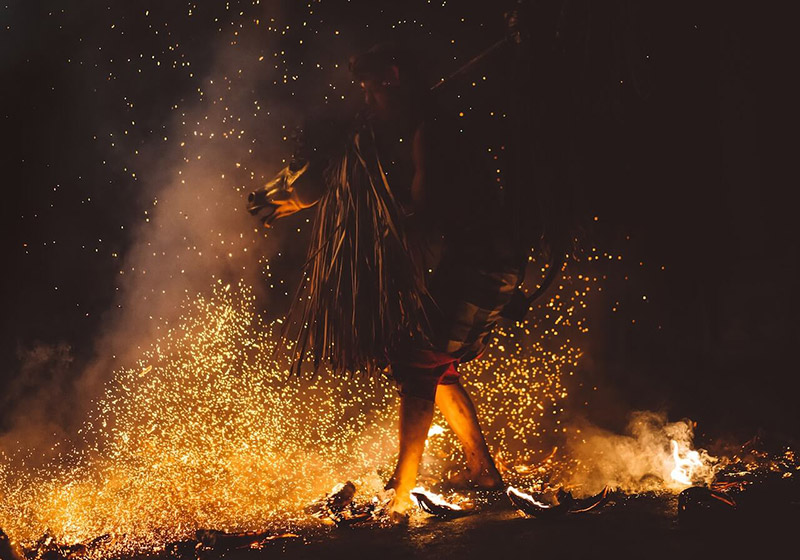 Bulgarians have adopted a truly unique approach when it comes to the type of motifs and ornamentation they choose to use on a piece of traditional clothing. As mentioned earlier, influences from past civilizations such as the Thracians are still present and very much a part of the local culture. Old pagan rituals are still practised in some parts of the country such as the well-known festival of ''Nestinarstvo'' – a ritual of firewalking.
The role of pagan beliefs and legends in traditional clothing revolves around the notion that symmetry is a diabolical creation and if worn on a piece of clothing it could make a person vulnerable to evil forces. Because of this, Bulgarians decided that no one should wear clothes with fully symmetrical decoration and instead added or removed elements from a design so that no symmetry was present in the final product.
Regional differences
Every region of Bulgaria had it's very own ''code'' that they weaved into the ornamentation of each costume. That code usually consisted of unique motifs and ornaments, or 'shevitsi', that were typical for the culture in that area and bared some sort of special meaning to the people who lived there.
Folk costumes in Bulgaria consist primarily of pants, shirts, vests and girdles for men, and dresses and aprons for women.
Women's Costumes
Women's traditional costumes tend to be divided into four categories. This involves clothing with either a single or double apron, tunics and the classical Saya garment. The combination of the dresses, aprons and shirts are typically embroidered in regional colours and various folk motifs. The colour red tends to dominate most of the Bulgarian folk dresses. Other colours such as white, black and green are also a big part of traditional clothing.
The one and two-apron costume
The two-apron female costume is typical for regions in Northern Bulgaria. It comes with a chemise, a set of two aprons (one worn in front and the other at the back) and a belt. The chemise and most of the sleeves were decorated in fine embroidery. The aprons were usually made from home-woven decorative fabrics and the entire process was very labour intensive.
The Saya clothing
When it comes to traditional Saya clothing, most of the decoration was located at the sleeves and along the neckline. The costume features a colourful Saya overcoat, a chemise, the typical apron and belt and a girdle. This type of costume was worn mostly in the southern and the southwestern part of Bulgaria. The dresses were typically made from cotton and the colours used were white (one colour), black, blue and dark blue.
Tunics
Tunics were the most popular type of clothing to be worn by women back in the day. It was the most widely spread female costume and was typical for the southeastern part of Thrace. The costumes usually consisted of a tunic, a chemise, an apron and a belt. The length of the sleeves depended on the region and some liked to wear them without. Most of the decoration can be found at the foot of the dress and at the neckline. The apron was considered as the central decorative piece and was richly ornamented with beautiful contrasting colours.
Men's Costumes
Compared to women's traditional clothing, male costumes were much simpler in terms of both shape and colour. There were two main principle types when it came to men's clothing – one was white-garment and the other was black-garment. The ''white'' version of the costume consists of a regular shirt, a wide girdle, a belt and some top clothes. The upper garments highlight the shape and structure of the costume while embroidered patterns and coloured woollen bands/braids stand as a more linear type of decoration. An essential part of the costume is the waist-band which tends to be rich in colour and ornamentation.
The "black" version of men's costumes was typical for the Rhodope Mountain region and it usually consisted of a white shirt and loose wool trousers (usually a dark colour). Other parts included a girdle, a belt, a cap and an outer garment (jacket with sleeves or vest). This type of clothing was particularly popular because it was suitable for the most common occupations – farming and cattle-breeding.
Festivals and events that celebrate traditional Bulgarian costumes
Festivals are an important part of Bulgarian culture. They have been preserving and celebrating old, local traditions and customs for centuries, and Bulgarians tend to be very proud of them (as well as taking an active part in them). Some festivals occur annually while others every are held few years. Nowadays, events such as the Rozhen Folklore Festival and the Zheravna Festival of the National Costume are well known worldwide and enjoy a wide variety of participants.
Zheravna Festival of the National Costume
The Zheravna Festival of the National Costume is the largest event of its kind to be held in the Zheravna architectural reserve. What makes this event so incredible is the fact that all the people who attend must be dressed in a national costume during the entire festival. It's a really interesting thing to witness because each region has its own unique design for their costumes. You're also not allowed to bring in any modern items with you which makes the experience even more authentic!
Rozhen Folklore Festival
The Rozhen Folklore Festival occurs every four years in August and is a nationwide event celebrating folklore and tradition. It also happens to be the largest folk song festival in the country. For two evenings in August, you have the chance to see some of the most prominent Rhodopean singers perform famous folk songs from the region. A symbol of the festival is the distinctive orchestra called Sto Kaba Gaydi (One Hundred Bagpipes). It's a great place to see all kinds of traditional clothing from different regions of the country.
Museums in Bulgaria where you see authentic traditional clothing
Preservation of local customs, beliefs and traditions have always been incredibly important to the people of Bulgaria. During times of great suppression and the 5-century Ottoman rule, people went to great lengths in order to secure the preservation of all that unified them. This included religion, language, traditions, local customs, arts, crafts and any existing heritage. Much of what's been preserved has been passed on to future generations and exhibited in various ethnographic museums across the country.
What's really interesting about this is that in each museum you visit, you will see unique items, clothing and costumes that belong to a particular region, each carrying its very own distinct signature style. Here are 3 major museums in Bulgaria that you can visit and learn all about the past population's customs, traditions and way of life:
1/ The Ethnographic Museum in Varna
One of the best ways to learn all about traditional Bulgarian costumes is to stop by the Ethnographic Museum in Varna. It is a great place to visit and get to know the way of life of the population in the Varna region, from the second half of the 19th to the beginning of the 20th century. You'll find that many of the costumes differ in style and appearance, particularly due to the migration which occurred towards the end of the 19th century.
With Varna City Card, you get free admission to the Ethnographic Museum!
2/ The Regional Ethnographic Museum in Plovdiv
The first thing you'll notice about the museum is that it's housed inside a stunning National Revival House. These types of houses are considered architectural masterpieces and this one happens to be situated inside one of the town's most emblematic places – the Old Town of Plovdiv. Inside the Ethnographic Museum in Plovdiv, you can really get a sense of the region's traditions and customs during the 18th – 19th centuries. Some of the period's most typical traditional crafts can be seen on display such as the production of multicoloured woollen embroidery, fabrics, rugs, traditional folk clothing, pottery, and copper work.
3/ National History Museum in Sofia
The National History Museum in Sofia features an incredible collection of traditional clothing so if you're ever in the capital, don't hesitate to visit and learn all about it! The impressive collection consists of approximately 2 400 items, separated into two main groups. In the first one, you will have a chance to see full sets of traditional clothing for both men, women and children. The second features separate elements of the Bulgarian traditional dress. This includes accessories and different types of ornamentation.
As mentioned earlier, traditional costumes are a big part of Bulgaria's heritage. They come with a lot of history, uniqueness and variety. There are many places in Bulgaria where you can see and learn all about them first hand so if you're ever curious, why not book a trip down to Bulgaria and dive into the country's rich and colourful culture?