Top Places For Wine In Varna, Bulgaria
If you're a lover of wine like most Bulgarians, you'll find there's plenty of places across the country where you can sip on this divine (and ancient) drink. Winemaking tradition here began with the Thracians back in the 4th century BC and is still going on strong today. In fact, Bulgarians are well known across the Balkans for their amazing winemaking skills and production of high-quality wines. The region of Varna is no exception to this. Here are some of the best wine places in Varna, where you can enjoy many unique blends, both local and international!
1/ Di Wine Restaurant & Wine Cellar
Undoubtedly, one of the top places in Varna where you can wine and dine. The restaurant has a very cosy atmosphere and is the perfect place to have a romantic dinner with a loved one.
The Wine
Their wine selection is certainly amongst the best in the country, not only by a number of labels (over 700) but also by a great variety of excellent wines that can only be found in a few places in Bulgaria. Sounds like a pretty good opportunity to try some unique, local blends!
The Food
What about a delicious meal to go along with a glass of red wine? According to locals and visitors, the stake menu is absolutely amazing. Try the filet mignon or the imperial steak and you won't be disappointed! The meat is perfectly prepared according to your taste, with garnishes of fresh seasonal vegetables.
For reservations: +359 89 992 9061
Here's how to get there from the Tourist Information Centre >
2/ Darzalas Wine & Cellar
Darzalas Wine & Cellar is located in the centre of Varna, just next to the Cathedral. This family-owned restaurant and cellar has quite an impressive collection. The authentic stone cellar contains over 500 old and rare local wines!
You can dine inside the glass hall or in the warmer months, in the beautiful terrace garden. Darzalas offers traditional local cuisine, different appetizers, cheeses, and an amazing selection of grilled meat. Try their red wines from the grape varieties Rubin and Mavrud – they are some of the best of what the country has to offer.
Wine Tastings
The restaurant also offers different wine tastings for its guests. You will be given a presentation about different winemaking techniques, local grape varieties and blends as well as an insight into the production process. Book a wine tasting by giving them a call at +359 878 411 460 or +359 899 929 061.
Here's how to get there from the Tourist Information Centre >
3/ La Pastaria Dragoman
If you're a fan of Italian food you'll definitely enjoy dining at La Pastaria Dragoman. You can try a wide selection of authentic Italian dishes, taste some really amazing wines and just enjoy the cosy atmosphere of the place.
The Food
All meals are prepared according to original Italian recipes which makes them suitable for every taste. The highlight of the menu is the fresh homemade pasta – boiled to 'al dente'. The pizzas are also delicious and the visitors can't get enough of the roast duck (goes perfectly with a glass of rose).
The Wines
Their unique wine list will surprise you with more than 150 different bottles, carefully chosen from all over the world. The restaurant is the only place where you can find and taste the La Selezione wines, specially produced by different cellars and exclusive to La Pastaria Dragoman.
For reservations: +359 896 77 99 35
Here's how to get there from the Tourist Information Centre >
4/ The Sea Terrace Wine & Beer bar
The Sea Terrace is considered one of the best seafood restaurants in Varna. It's located along the Central Beach Alley and the terrace offers some spectacular views of the sea.
The Food
If you're visiting with your family, go for the seafood platter. It's certainly big enough and it's a good chance for you to try a different variety of local fresh fish and seafood specialities. If you prefer something smaller try the fried calamari, octopus or prawns (with your sauce of choice) and you won't be disappointed. How about an amazing starter? Try the foie gras, it's delicious!
The Wines
There's a good selection of wines to choose from, but white and rose wines tend to go best with seafood. Go for a glass of chilled rose or any of the local white wines. According to visitors, they are the best.
For reservations call them up on +359 882 50 50 50.
Here's how to get there from the Tourist Information Centre >
5/ Red Canape
Red Canape is a high-class restaurant with stylish, posh interior and top-notch food and service. They have an interesting menu offering dishes for every palate, all of the right size to allow you to have a full-course meal. Although the prices are on the higher end, they perfectly match the quality of the food.
What to try here?
Penne al Tonno (pasta with tomatoes, tuna, capers and olives), the fried trout garnished with a green salad or the roasted beef. Top that with a glass of delicious rose or muscat blanc!
For reservations: +359 882 005 005
Here's how to get there from the Tourist Information Centre >
6/ Complex 'Old Varna'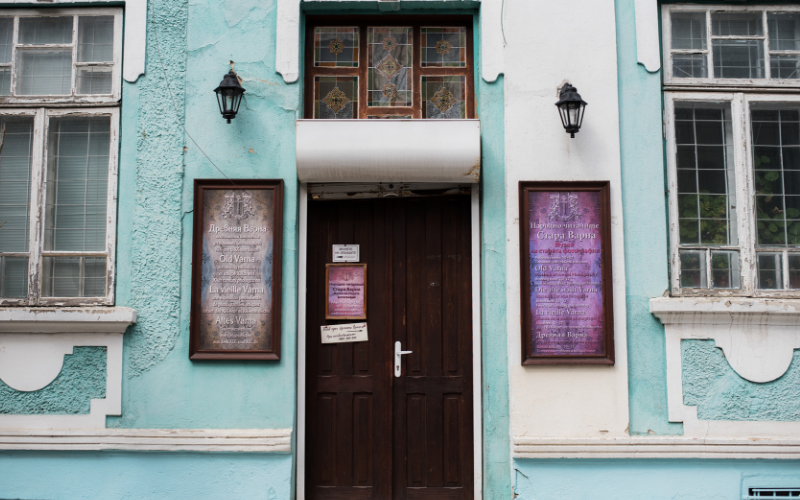 Located in the heart of the old Greek neighbourhood in Varna, this is a gem you shouldn't miss. Complex 'Old Varna' holds a carefully curated exhibition of over 300 photos presenting the birth of modern-day Varna. What is probably of most interest to tourists like us, though, is hidden away in the cellar – a selection of amazing Bulgarian wines. During a wine tour there, you will taste wines from different Bulgarian winemakers – you can also buy a bottle of the ones you like. The wine tastings are performed by professional sommeliers so you know you're in good hands!
With Varna City Card you get 6BGN off a tasting at Complex 'Old Varna'!
Here's how to get there from the Tourist Information Centre >
There are certainly enough places in Varna where you can enjoy classy international wines as well as many local ones that are sure to leave a lasting impression. Also, don't forget that wine goes best with a delicious meal!