Street Food You Should Try In Varna, Bulgaria
Tasting street food in a new country you're visiting is always a very unique and memorable experience. It's also a convenient option for busy travellers who'd rather have a quick bite and continue on their journey. Street food in Europe is generally safe to consume and considerably budget-friendly. No need to waste your precious time waiting in line for a place at a fancy restaurant – and you won't have to worry about overpaying. Planning a trip to Bulgaria's Sea Capital soon? It's worth knowing that Varna's culinary scene stretches far beyond just seafood and national cuisine. Check out our top 5 places for the best street food in Varna where you can enjoy some hearty, delicious local food!
1/ Nutrio Bar
The prize winner for best street food spot goes to Nutrio Bar. The local chain is without a doubt one of the local's favourite places for enjoying a quick lunch or grabbing some food to go. The best thing to eat here is certainly the sandwiches, which are not only super delicious but also ridiculously cheap considering the generous portions. Additionally, you can also buy freshly-made salads, smoothies, raw desserts and meal boxes.
Our top picks:
For those of you who are not so keen on bread, the food box is an excellent choice. Try the box with grilled chicken fillets, steamed broccoli and rice. It's both delicious and healthy at the same time. As for the sandwiches we suggest trying out the sandwich with turkey and bacon, the ''Italian salami'' one or the one with either tuna or salmon. A standard food box or a sandwich will cost you no more than 3 euros!
Prefer to order some tasty street food from home?
You can order food from Nutrio Bar using one of the local popular delivery systems: Food Panda Varna and Takeaway. It's pretty convenient for those stay-in, rainy days when you don't feel like strolling down the streets of Varna.
Here's how to get there from the Tourist Information Centre >
2/ So Fresh Sevastopol
If you're looking for some healthy street food options head over to So Fresh Sevastopol. The venue offers an amazing selection of freshly prepared sandwiches, cream soups, smoothies, salads and ciabattas. For a quick and tasty mid-day meal, we recommend one of their delicious sandwiches made with either wholegrain spelt or wheat flour. What to try? For a vegetarian option go for the avocado toast sandwich made with homemade basil pesto, mozzarella and tomato. For a meaty option, try the Italian sandwich made with prosciutto, arugula, mozzarella, tomato and pesto.
Amazing cold-pressed juices and raw cakes
At So Fresh Sevastopol you can also enjoy a wide selection of fresh, cold-pressed juices that are both nutritious and very tasty at the same time. As for the deserts, they are absolutely raw, dairy-free and are many using only the highest quality ingredients. Tips? Try one of their yummy cakes along with a coffee or a freshly squeezed green juice. Their chia pudding is a great option for those who'd prefer dairy-free desert.
Here's how to get there from the Tourist Information Centre >
3/ Old Buddies Burger Bar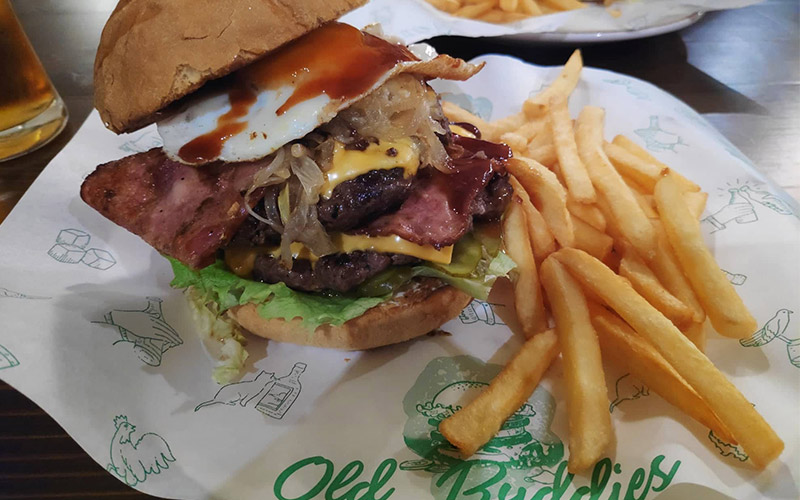 The Old Buddies Burger Bar has a reputation for crafting the best quality burgers in town and it's pretty easy to see why the locals love them so much. For starters, this burger bar has over 17 different types of burgers, each with a distinctly unique combination of only high-quality products. Their prices are also generally affordable and there are some other meal options available, including many vegetarian-friendly dishes.
Delicious, handcrafted burgers
One of their most popular burgers is the ''Peanut Burger'' which does indeed actually have peanut butter in it! Locals and tourists simply can't get enough of this flavoursome masterpiece! It's made with veil, peanut butter, honey, mayonnaise, caramelised onion, ginger sauce and lettuce.
Their signature ''Old Buddies Burger'' comes at a whopping 620 grams and is indeed for the very hungry! It's made with juicy veal, bacon, cheddar, eggs, pickles, salad, caramelised onion and some amazing BBQ sauce and mayonnaise. If you think you can stomach even more give the ''Tripple Burger'' a go. It's triple meat and let's just say at 900 grams, you will have to push your limits. A burger here will cost you between 5 – 7 euros (7 for the super-sized versions).
Here's how to get there from the Tourist Information Centre >
Need more burgers? Why not check out these amazing burger spots in Varna >>
4/ UNO Street Foods
The lovers of real street food know and appreciate the value of a good burger. UNO Street Foods offer some of the juiciest, hottest and most flavoursome burgers in all of Varna. Their hand-picked recipes have been inspired by the amazing food carts, vendors, stalls across Asia, Europe, Middle-East & America so you can enjoy a wide variety of tastes here. What to try? Go for either the Crunchy or Butter Chicken Burrito (there's also a version with beef), a tasty Falafel Box or their classic Uno Duo Burger. A meal here will cost you no more than 5 euros and is certain to keep you both filled and satisfied for hours!
If you're in the mood for something sweet why not give their milkshakes a try? You'll be able to try most of the classic milkshakes such as strawberry, chocolate, caramel and even an Oreo flavour! Other beverages include freshly squeezed orange juice and some fizzy drinks. You can find this popular chain located inside Grand Mall Varna.
Here's how to get there from the Tourist Information Centre >
5/ Go Grill Street Food
Old grill masters have said that real kebabs and meatballs are made of only pure meat and a good combination of natural spices. That's exactly what you can indulge on in Go Grill. The chain has over 7 locations spread out across Varna and the locals particularly love it due to the amazing quality and variety of grilled meat that you can buy, which also happens to be quite affordable. A standard meal here for 2 people (including up to 10 pieces of grilled meat, salads and buns) will cost you no more than 6 euros.
A great selection of quality, grilled meats, with a traditional twist
The lovers of meat will surely enjoy the incredible variety of options such as pork skewers, sausages and the all-time Bulgarian classical duo of a meatball and sausage. You can have either of those in a bun, with a sauce of your selections, some sides such as fresh salad and pickles. Our suggestion? For a genuine street food experience (just as locals would do it), try a combo of kyufte, kebabche and karnache (a mix of traditional grilled meats) in a bun, topped with some lyutenitsa (a local spread made of peppers, tomatoes, aubergine, also seasoned with spices, oil and salt). The pork skewers are also very delicious and go perfectly with a portion of fresh seasonal salad.
Here's how to get there from the Tourist Information Centre >
Now that you know just how amazing the street food scene in Varna is, you can indulge in some delicious cuisine during your next trip to the Sea Capital. There are certainly more than enough options to satisfy those eager for new and exciting culinary adventures, check out other suggestions by the Varna City Card team: